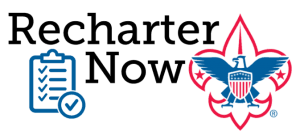 To complete your online charter, click here.
2021 Key Recharter Due Dates
Oct. 1/6 – Access codes will be emailed or available at Roundtable
Oct. 12 – Load Roster (Stage 1)
Oct. 19 – Update Roster (Stage 2)
Oct. 26 – Check Roster (Stage 3)
Oct. 30 – Summary (Stage 4)
Nov. 3/5 – Submit (Stage 5)
2021 Charter To Do List
Youth Protection Training Infographic
Key Resources for Charter
UDA Change Form
Adult Position Codes
Charter Agreement
Training Resources
Youth Protection Training – renew every 2 years
Hazardous Weather Training – renew every 2 years
Criminal Background Check Resources
Since 2003, background checks have been conducted on every new adult when they apply to register, and in 2008 a background check was conducted on all currently registered adults. The BSA will implement periodic criminal background checks on a five-year basis.
In preparation for this, the required disclosures and authorization documents are being updated to ensure compliance with current local, state, and federal laws.
Criminal Background Check FAQ
Registration Fee FAQ
CBC 2021 Disclosure Form
Background Check Disclosure Form
Membership Subscription & Financial Assistance
Membership Subscription FAQ – Leaders
Membership Subscription – Sign up
BSA Fee Chart
Unit BSA Fee Chart – Editable
2021 Program Support Fee Assistance (available starting Oct. 19, 2020)
Troop Specific Resources
Order of the Arrow Letter
Unit Upload Option
Pay Dues online here
Nebraska Unit Information
BSA Applications
Youth Application
Adult Application
After Charter is Complete
Membership Cards
Charter Cerificate
Adding Member ID to My.Scouting