2022 Citizen of the Year Luncheon
Monday, April 11, 2022
Scott Conference Center | 11:30am -1:00pm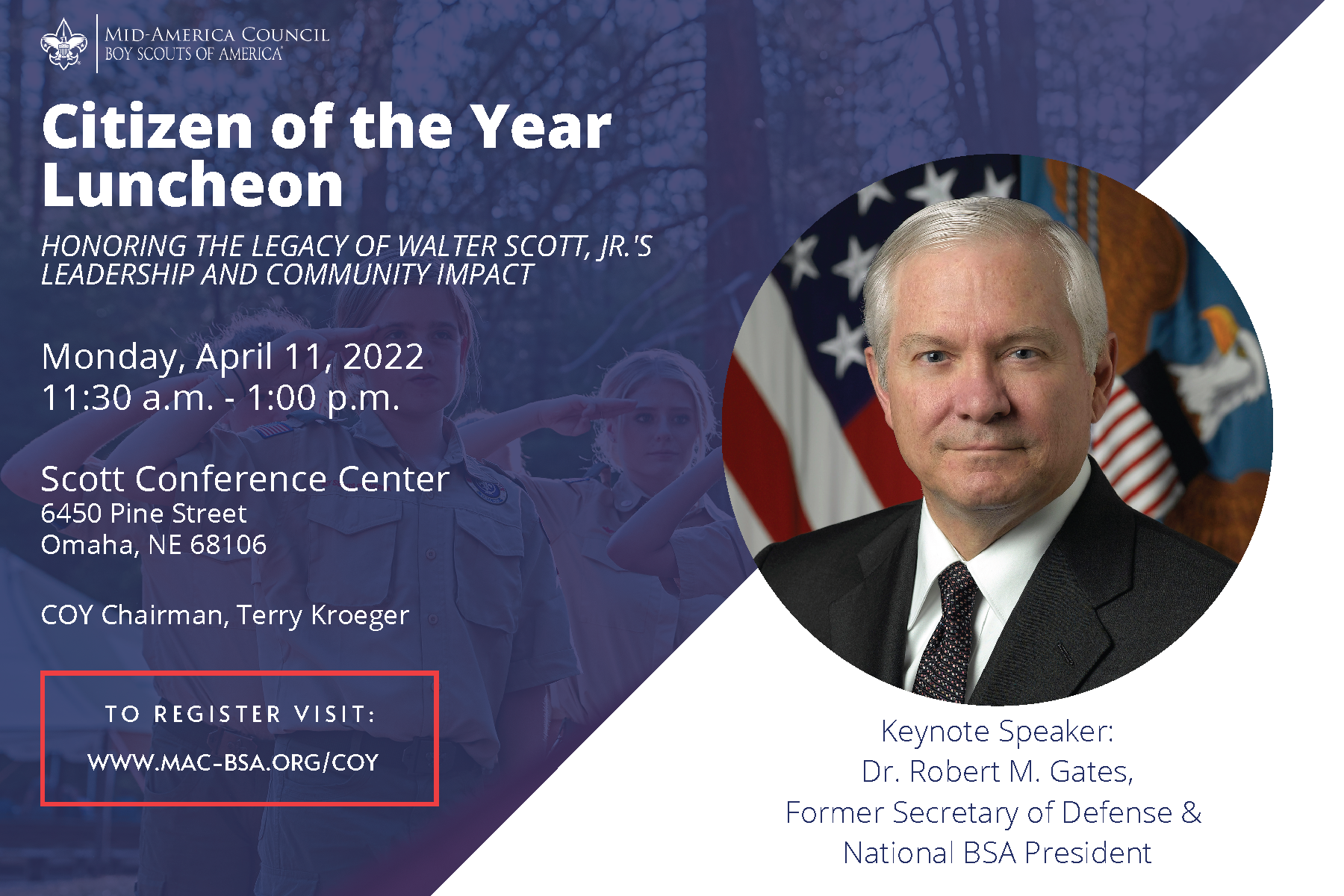 The Boy Scouts of America, Mid-America Council seeks to prepare Scouts to be future community leaders through experiences that build confidence, teach leadership, and develop ethics and values all while having fun. For over 50 years, the Citizen of the Year luncheon has recognized an influential Omaha-area community member who has demonstrated outstanding leadership and support for youth organizations.
Beginning this year, building on tradition of recognizing a strong community leader, the Walter Scott Jr. Citizen of the Year award will now honor a Scout from the previous year's class of Eagle Scouts.  The chosen honoree will stand above the rest in leadership, service and overall attitude.  This prestigious award will include a college scholarship, leadership training opportunities and special recognition at the luncheon. The exclusive luncheon will feature a keynote address from Dr. Robert Gates, former Boy Scouts of America National President and 22nd United States Secretary of Defense.
For more information on sponsorship levels and to RSVP, click here.

2022 Citizen of the Year Overview
SPONSORSHIP LEVELS:
EAGLE SCOUT SPONSOR – $20,000 ($750 benefited amount) includes seating for 8 guests, company name or logo all print materials and full-page ad in program
LIFE SCOUT SPONSOR – $10,000 ($500 benefited amount) includes seating for 4 guests, company name or logo all print materials and full-page ad in program
STAR SCOUT SPONSOR – $5,000 ($250 benefited amount) includes seating for 2 guests, company name recognition in program or half-page ad in program