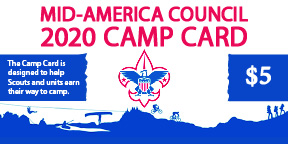 2020 Leaders Guide 
Scout Report Form for FREE camp or Jubilee
Please click below for your district's camp card proofs. Businesses/offers may be subject to change.
Thundercloud
Ohwahnasee
Twin Lakes
Diamond Dick
Goldenrod
Petah La Shauro
War Eagle
Trailblazer
Omaha Metro
Camp cards is a program meant to help get more kids to go to camp – for FREE! The purpose is to alleviate financial stress from families and units so that more kids can go to camp and receive the unparalleled experiences that Scout camp is known for. Revenue from the camp card sales is directed back into the Mid-America Council camping programs.
2020 Camp Card Scout Incentive Program
Location
The camp card offers are tailored to one of nine regions: SW Iowa, NW Iowa, North Central Iowa, West Central Iowa, Siouxland, Columbus (NE), Norfolk (NE), Fremont (NE), and Omaha-metro.
4-2-2020 Update:

We have revised the 2020 Camp Card sale dates to June 1st through July 31st to help Scouts attend camp and Jubilee! Also, the restocking fee has been eliminated for 2020.
Check out the Camp Card Leaders Guide for the full details of the program and free camp incentives.  The dates given in this update replace the original leader guide dates.
When a Scout reaches the needed level for earning free camp, the unit can submit payment ($2.50 per card sold), extra cards if applicable or desired, and the Camp Card Scout Report. This needs to be completed at the Durham Scout Center, Sioux City Scout Shop, or through your District camp card team preferably prior to camp.  If need be, this task can also be completed upon arrival at camp.

Please note that if a Scout has not yet sold enough cards for earning free camp upon arrival to camp, the unit/family will need to pay the registration balance at check-in.
After camp, the unit/family can receive a refund upon the close out of the sale and indicating a free camp was earned after attending camp.  The refund of camp fees can be held back as part of the camp card close out but will need to be indicated on the Camp Card Scout Report.

Units can submit payment for camp cards sold multiple times as needed or all together at the end.   All unsold camp cards and funds must be returned by August round tables but can be done earlier as needed.
CAMP CARD FAQS
When can I get the Camp Cards?
Units can submit payment for camp cards sold multiple times as needed or all together at the end.   All unsold camp cards and funds must be returned by August round tables but can be done earlier as needed.
Where can I sell the Cards?
Camp Cards can be sold just like popcorn. Think of creative places to sell them.
Store Fronts: Grocery Stores, Hardware Stores, near vendors on the cards
Door to Door
Mom and Dad's work
School
Church
At your own sporting events
Please remember if you are setting up a store front, or a table display, ask for permission from the establishment you are selling at beforehand. It's always nice to leave a thank you note as well.
When can I sell Camp Cards?
June 1st through July 31st
How does the commission work?
The 2020 Camp Card commission is 50%.
How does my Scout get free camp?
A Scout must sell a certain amount of cards in order to receive free camp.
My Scout wants to sell, but no one else in our troop/pack does – what do I do?
Sign up your Scout under his pack or troop. Pick up the cards at the Scout office/camp, and make sure to tell the rest of your unit how great they are selling, and maybe some more Scouts will want to sell too!
Can I use the free camp for myself?
No, camps are only allowed for the Scout that sold the cards – not redeemable for an Adult or sibling at camp. But how your unit spends the commission is up to them. They may decided to help the adult leaders with camp.
Do I have to pay for the cards upfront?
No. Payment will be due by August Roundtable. Units will make 50% commission on each card sold.
How much commission can I make?
Each unit will make 50% commission. That's $2.50 for each card sold.
How do I get my commission?
No money is due upfront, so when you sell the cards, you will keep your $2.50 commission of each card sold.
Can I save this free camp and use it next year?
No, camp scholarships (free camp) must be used this year.
What if I run out of cards?
Units can check out more cards! Bring in the money for the cards you have already sold, and we will issue you more cards if they are available. This can all be done at Scouter Services.
Who do I call if I have questions about camp cards?
You can call your district executive or you can contact the council office at 402.431.9272 or via email.
Is there a return policy?
Return Policy Returns of unsold cards will be accepted until August roundtable with the following conditions:
The restocking fee has been eliminated for 2020.
Returns after August Roundtable will not be accepted and the unit will be financially responsible.
Final payments are due at August Roundtable.
The Mid-America Council reserves the right to refuse product that has been damaged or rendered unsalable. The UNIT is RESPONSIBLE for ANY un-returned cards (lost, misplaced, damaged, etc.) Be sure Scouts and parents treat each card as if it were a $5.00 bill.