Scouts BSA Resident Camp at Camp Cedars
For many Scouts, summer camp is the highlight of their year in Scouting. It provides numerous opportunities for Scouts to earn merit badges along their advancement trail in addition to many other BSA or local camp recognition's. Some activities Scouts can do while camping include swimming, hiking, fishing, boating, rock climbing and hanging out around a campfire. Scouts can do all this, and more, at Camp Cedars!
Quick Links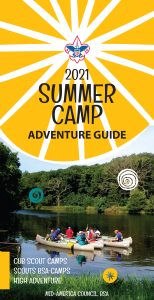 2021 Leader Guide – 2022 coming soon
Camp Cedars Flyer
Camp Cedars Map
Weekly Schedule 2021
Programs offered in 2021 – 2022 coming soon
More Program Resources
2021 Summer Camp Adventure Guide
2022 Schedule

    REGISTER TODAY!    
male and female troops all weeks

Week 1 (June 12-18)

Week 2 (June 19-25)

Week 3 (June 26 – July 2)

Week 4 (July 10-16)

Week 5 (July 17-23)

Scouts
$340 per Scout*or $310 if paid by May 1

$100 deposit per Scout to enter programs

*Scouts will receive a FREE camp  t-shirt if paid in full by May 1, 2022

Programs are FREE after the initial fee. Cedars offers an inclusive pricing model!

Camperships
Need financial assistance? Mid-America Council Scouts are encouraged to apply online. Application opens January 1.


Discounts:

$15 off per Scout who sell popcorn fall 2020 and/or Camp Cards in 2021 with the Mid-America Council

$15 off per Scout whose family contributes to the Mid-America Council Investment in Character Campaign in 2021

Adults
$100 per weekly adult
$24 per daily adult
Discounts:

$10 off per adult whose family contributes to the Mid-America Council Investment in Character Campaign in 2021

$10 off per adult who completes training per their primary BSA registered position. *Available for only Mid-America council adults.
Resources
Annual Health and Medical Record
Camp Cedars Menu
Camp Staff Opportunities
Campsite Matrix 2022
Cedars Facebook
Contact Scouts BSA Camping Director
How To See What Scouts Completed at Camp
Pre-Camp Swim Check Form
Program Details & Waivers
Refund Request Form
Reserve Council Facility
NEW – Scout Information and Program Preference Fillable Form
Weekly Camp Schedule – NEW for 2021
The Mid-America Council purchases accident and sickness insurance to help protect scouts and scouters during official scouting events.  This is secondary insurance and is intended to help cover out of pocket expenses of scouting families in the event of an injury.  Please submit the Claim Form to either Scout Center or via email to midamerica@scouting.org.  If you have any questions, please contact Peggy Talarico or Spencer Finley at 402-431-9272.