Scouting For Food
Scouting for Food is an annual community service effort supported directly by the Mid-America Council and partner organizations in our local community. Under the Boy Scouts of America strategic pillar of being recognized as an advocate for youth and youth issues, Scouts across Nebraska and Western Iowa collect nearly 200,000 food items for those in need.  This is the equivalent of approximately 114,000 meals. We are happy to partner with the Food Bank for the Heartland & your local food bank/pantry.
The 2020 Scouting For Food Campaign Dates
Unit Leaders – your local District Executive will be contacting you to arrange drop off of supplies.
Sat, May 9 – Deliver door sticky notes to homes throughout your town
Sat, May 16 – Pick up food donations
How to make a face mask out of your neckerchief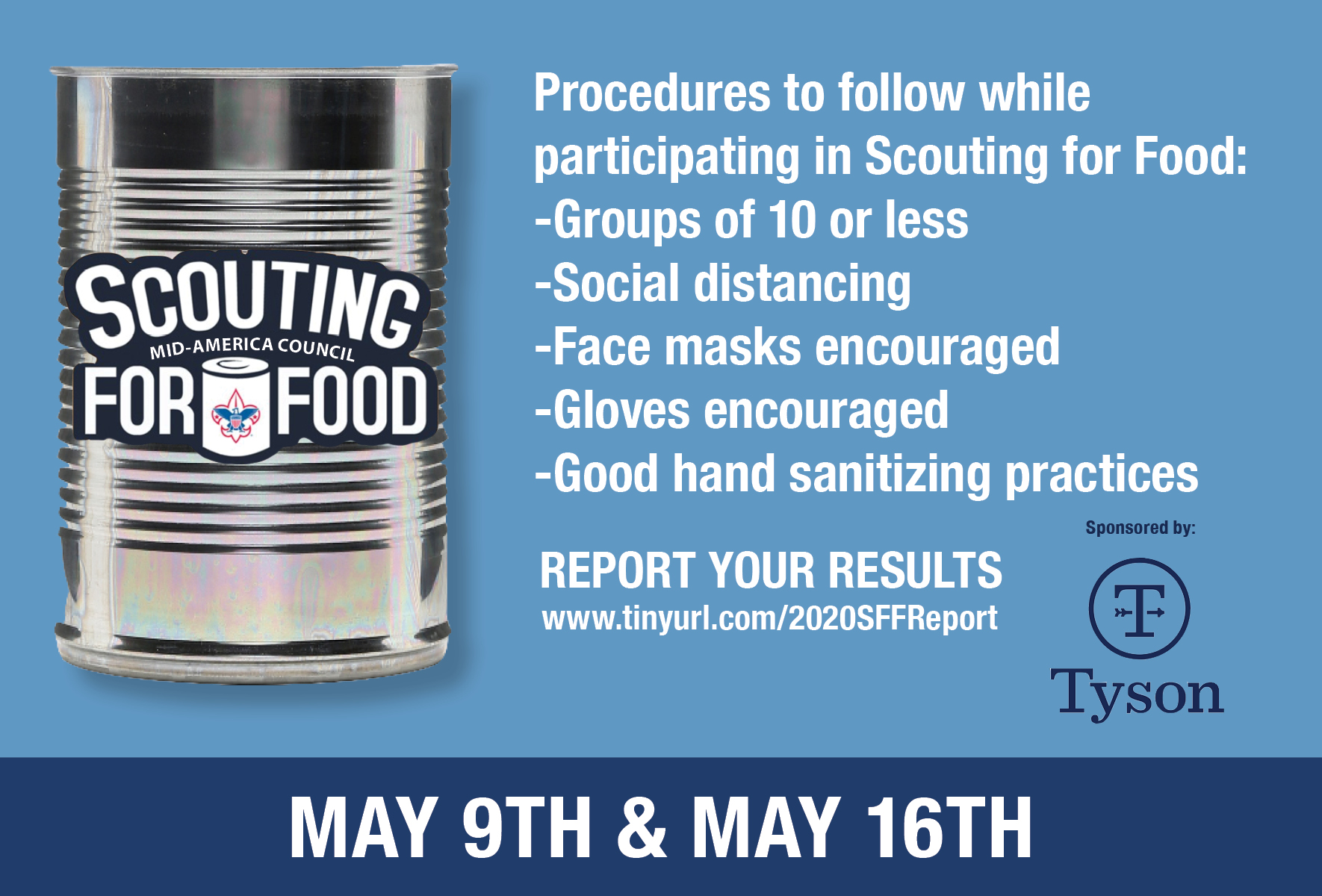 Drop-off Locations
If you received a door sticker on May 9, Scouts will be in your area to pick up donated food items on May 16 between 8 a.m. and 2 p.m. If you did not receive a door sticker and still want to donate, please take your donated food items to your local food bank or pantry. For reference, here is a list of participating food banks and pantries from past Scouting for Food Drives.
Omaha Hyvee Locations:
5150 Center Street
14591 Stoney Brook Blvd
1000 S 178th Street
9707 Q St.
LOCATION CHANGE – The Hyvee on 156 & Maple will no longer have a Werner truck accepting donations at their location. Instead, please take donations to the Douglas County Engineer Office located at 15505 W. Maple Rd – located right across from the Hyvee. You will access this location off of 156th St.
PLS Elementary School Drop-off Locations:
Centennial
Emerson
West Park
North Park
Lost Creek
Schuyler
Goldenrod
Fremont: Salvation Army
Fort Calhoun: Saint John the Baptist

Where to Report your Numbers and Order Patches/Ribbon for your Unit
Thank you for participating in Scouting for Food!
Click here to report the amount of food you collected, number of volunteers, etc.
NEW METHOD FOR RECORDING SERVICE HOURS! Please click here to learn more.